Do You Have a Wet Basement?
A wet basement can lead to all kinds of other problems. Removing water from your basement is no easy task. But making sure water doesn't get into the basement in the first place is the best way to start. If you already have a sump pump and the proper drainage installed, you've got the basics. However, you may need more.
Basement waterproofing in Brampton could help you protect your home with the correct waterproofing techniques. In some cases, waterproofing looks a lot like water prevention, because full exterior waterproofing isn't possible. There are many different options, and each has its benefits. Read carefully to find out more about basement waterproofing services and how they can help you.
Types of Wet Basements Services
There are many different types of waterproofing and prevention services. They all involve different tools and techniques. Each one solves a different problem and comes with its own cost and possible benefits. These services include but are certainly not limited to:
Exterior waterproofing helps to seal your foundation when you experience cracks or faults. There is a significant difference between waterproofing and damp proofing. Waterproofing involves the use of better equipment and supplies to make sure your leaky basement will no longer leak. It costs more, but it doesn't cut corners.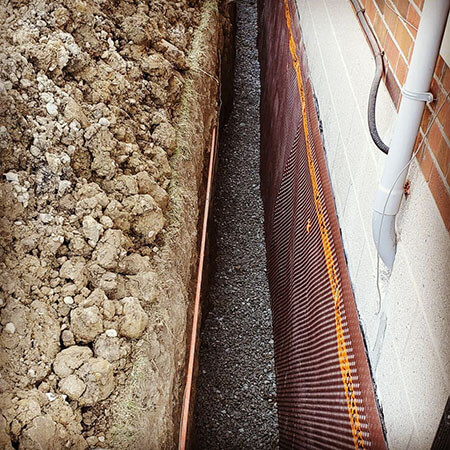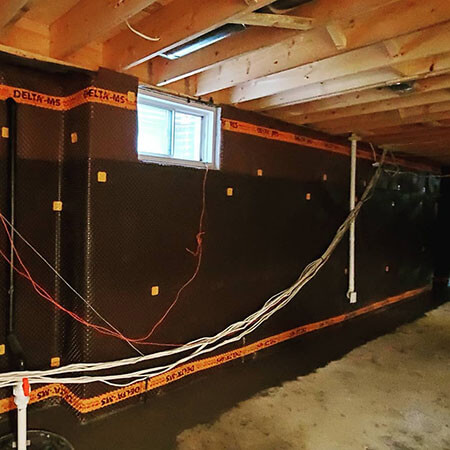 Interior waterproofing helps control the water that does come in. If you experience a leaky or damp basement, you can install drainage and discharge systems to reroute the water to a more appropriate place. The primary benefit here is that it can intercept water as it seeps through the walls or the footing.
Backwater valves can be installed in less than one day and prevent water from backing up your main plumbing line, which is a common cause of basement floods. It's a great way to provide some interior waterproofing quickly and at an affordable cost.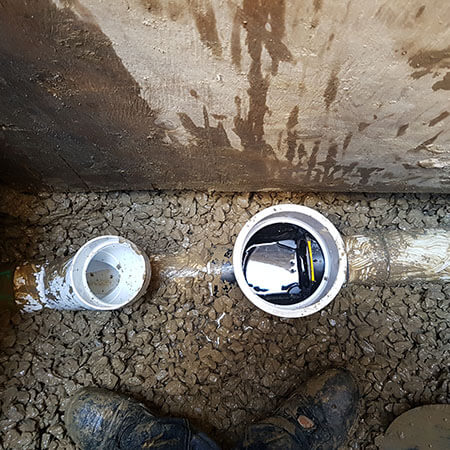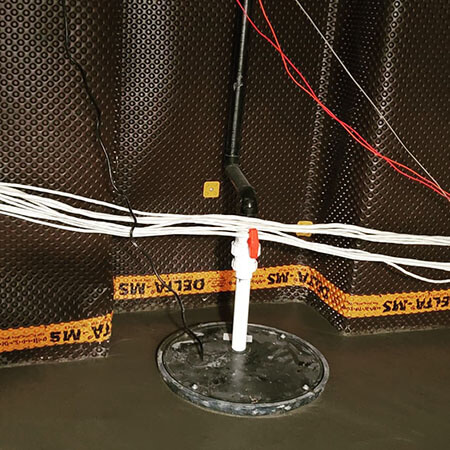 A sump pump is a critical component of interior waterproofing. It provides an efficient way to get the water out of the basement and to a place where it can drain appropriately. It's especially useful when your drain is blocked, or there are no other drainage options.
Drain Repair and Plumbing
Other small ways you can prevent basement flooding is with proper maintenance like cleaning and repairs. Maintaining your sewer and drainage systems requires keeping them free of dirt and debris that can cause a blockage. If you do experience a blockage that leads to other problems, drain repair and proper plumbing can help fix them so that your system back up and running soon.
Underpinning your basement gives your foundation more height, protecting it from groundwater seepage. When pressure builds up under your slab, it can cause water to come in through the floor. It doesn't indicate a leaking foundation, but a problem that requires a different solution. Underpinning can also add value to your home and increase your square footage. It stabilizes your foundation, aiding in the prevention of cracks and other structural issues.
Concrete Floors & Foundation Repair
If you're dealing with uneven floors, cracks, smells, or other old concrete issues, having a new floor installed could help alleviate these issues. It's another excellent way to protect your basement from further problems caused by an old concrete floor.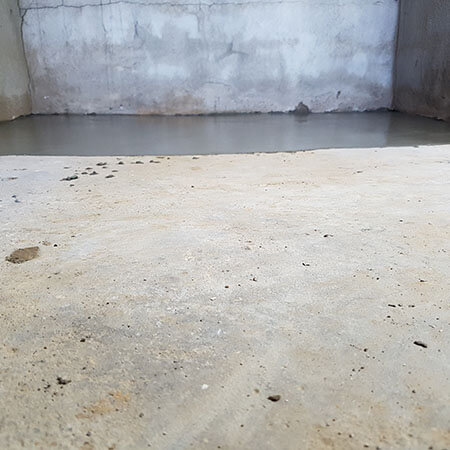 Invest in Basement Waterproofing
Basement waterproofing is an excellent investment for your home. It can increase your home's value, provide stability, and prevent leaks and other issues caused by water damage.
Safeguard the Value of Your Home
By investing in basement waterproofing, you not only add value but reap other benefits like reducing moisture in your basement. That moisture can lead to allergens and musty odors. By reducing the infiltration of things that can damage your air quality, you can improve your health and prevent more instances of sickness in your family.
Protect your Foundation from Deterioration
Waterproofing your basement can prevent or eliminate deterioration. It adds to the structural integrity of your home, making your home stronger, preventing cracks, and adding to the overall value of your property. Whether you choose to live in your house for years to come or you're prepping it for resale, it will be worth so much more in terms of safety and comfort.
Multiple Means of Waterproofing your Home
Even if your water problems can't be addressed with exterior waterproofing, interior waterproofing is an option as well. It can be helpful in situations where there's not enough space or access to install exterior waterproofing. It can also solve problems that aren't due to foundation leaks, but rather pressure problems under the slab. Interior solutions are also a bit more cost effective and still add value.
The most important thing to remember is that with proper waterproofing, you get the security that comes from knowing your assets are protected. The value you add to your home by waterproofing your basement comes at a price, but so does your peace of mind.
Common Signs you Need Waterproofing
Common problems occur in basement window wells, block or brick foundations, joints, and sills.
Your Trusted Waterproofing Specialists
By hiring a company with experience, you get the knowledge, professionalism, and dedication you deserve. From start to finish, we provide excellent customer service, reliable technicians, and expert installation and results, so you can trust who you hired to do the job right.
If you need basement waterproofing, trust the leading industry experts to provide you with a consultation that will leave you knowing what your options are. We'll educate you on the best solutions while providing a few alternatives. After we finish with our free consultation, you'll have all the information you need to make the right choice.
We Use Only the Best Waterproofing Equipment
We use the best equipment and materials to do the job right the first time. We'll ensure that we take great care in treating your property with respect, and we'll dedicate ourselves to implementing the solution you need in the most efficient way possible.
Guaranteeing Highest Quality Workmanship
We're happy to guarantee our work, allowing you peace of mind. Our solutions are designed to reduce, eliminate, or prevent the influx of water into your basement. Our goal is for you to experience better air quality, less water damage, and a stronger home. We'll even provide you with a plan to keep your systems running properly if the worst does happen.
UPR: The Smart Choice for Basement Waterproofing in Brampton
From weeping tile installation to sump pumps and drainage systems to underpinning, UPR can do it all. Your basement needs a comprehensive solution instead of taking shots in the dark at what might be wrong. Sometimes the solution involves a multi-step installation process to implement all the tools your basement needs to stay dry.
Offering Free On-site Estimates
Let us help you with Brampton wet basement waterproofing, no matter what that looks like for you. We'll give you a free written estimate, outlining all the waterproofing services we recommend so you can make a better financial decision. You'll be better prepared to make a decision that's right for your budget and your home.
Top Quality Waterproofing for an Affordable Price
We can guarantee low prices on foundation repair, drain cleaning, and basement waterproofing. We are happy to provide a portfolio of work, reviews, and testimonials so you can have confidence in hiring our experts to do your most important jobs.
A Long-term Solution for a Wet Basement
Enjoy a previously wet basement that's now forever dry with interior or exterior waterproofing. When we finish, we'll make sure to give you a written guarantee that your system will run efficiently for years to come. Don't forget to call us for all your routine maintenance to ensure it works at its best.
You can trust UPR to solve foundation and basement problems such as cracks, leaks, damp basements, wet basements, plumbing and drainage issues, and so much more. We are proud to serve Brampton and all surrounding areas with our services so you can enjoy the professional staff and quality services.
Contact Our Local Waterproofing Experts
We look forward to building lasting relationships with all our clients so we can continue to provide the best services in the area. We're trained, insured, and certified to provide you with everything your home needs to stay dry. Whether you need full basement waterproofing or simple maintenance, we'll be there when you need us.